How exciting a new addition to your family is!! What better opportunity to start reading family travel blogs and plan your adventures as a family!
But is it ok to fly once you find out you are pregnant? YES!! As long as you are physically well enough there is no reason you shouldn't continue to see the world – or take a babymoon with daddy – while waiting for the arrival of your baby globetrotter; what is physically well needs deciding between you and your medical practitioner.
So got the all clear? Great, Here are five things to remember to make flying while pregnant an enjoyable experience;
Obtain a letter from your doctor or mid wife before flying. Depending on the stage of your pregnancy the airline may also require a specific form to be filled in (check their website before flying) but generally speaking airlines let you fly before 28 weeks without a letter and up to 36 weeks (32 weeks for multiples) with one. If you have connecting flights, check the policies of any code share airlines, and if your travel plans run over pregnancy milestones, make sure you're covered for the return leg as well.
(Great tip from reader Danni who regularly flies to the U.S.; ask your doctor to write the month in full as different countries have different date formats – eg due date 9 December 2015 not 9/12/15 or 12/9/15 to prevent any confusion flying internationally)
Get an aisle seat. If they are unable to allocate you one at check in (always go to the counter and ask – be prepared of course if you are pushing a point for 'special needs' that you have your doctors letter with you!). If they can't help at check-in, plead your case on the plane with the cabin crew and neighbours; nobody wants to be constantly clambered over by the large peeing lady. Or even better, now might be the perfect chance to treat yourself to a cabin upgrade, get that extra leg room and relax while you can.
Stay cabin smart. Some of these tips are blindingly obvious and should be high on the priority list for every flyer but this is especially important when you are pregnant, stay hydrated, along with keeping up circulation exercises (consider wearing pressure socks, get up and take regular walks) and eat regularly -i.e. bring a little bag of healthy nibbles with you to be sure.
Avoid flying in small aircraft. Large commercial jets have pressurised cabins, but if you're looking at say an island retreat where you have to fly in a smaller craft this should be avoided; without pressurisation your body has to work extremely hard to provide you and your baby with enough oxygen.
Check your insurance. Another great tip from reader Rowena, even if you have a doctors letter and the airline permits you to fly, your travel insurance company may have a different policy, especially if you have any pre-existing conditions; the last thing you want is to be stuck in a foreign country and unable to leave if your insurance company won't cover you to fly so read the fine print. Even if you are perfectly healthy when you take off on your adventure unfortunately things can and do go wrong en route, so know what you are covered for, and if you need to seek help while you are away where the nearest maternity facilities are.
Have you flown when pregnant? Do you have any further advice to add?
Don't forget to visit the travelling while pregnant home page for more handy hints and resources for flying and enjoying your travels during this special time in your life.
This post is linked up! come check out what other family travellers have to say: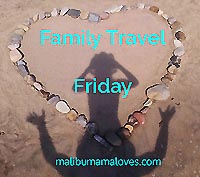 Pin for later
©OurGlobetrotters.Com