Ever wake up with that nagging feeling that there's something on today?  Something you've forgotten? Then you realize it was something the kids were supposed to do for school.  Something that between fevers and midnight feeds, and heaven help us setting up your own business, that perhaps it's kinda slipped your mind?
Ok, so I forgot my son's International Day for kindy. He's only two; he doesn't know what day of the week it is, let alone what country he's from so granted I don't think he's going to have any great long-term scarring.  I remembered before we actually got there which is a big bonus (Mr Globetrotter is still mentally tortured by a missed casual clothes day in high school).
Through years of practice we now have a range of Australian t-shirts in a range of sizes for exactly occasions like this, and thankful for my role with the local Aussies Abroad committee, I was able to rifle through our bag of tricks we keep for family days and proffer up a small Australian flag – (read deadly weapon in the hands of toddler).
I have had an epic fail in the food department though.  Weeks ago I fully intended to learn how to make ANZAC biscuits for the occasion – I am not completely kitchen incompetent! But as a fall back Vegemite sandwiches and some fairy bread will do; of course the bread was stale this morning.  Barbeque shapes are no longer available at LuLu's and there's no chance I am handing over my last packet on imported Allens sweets.
In a last ditch attempt to retain some sort of mummy capability this morning I sent him off with Australian paper plates and napkins.  It said bring a plate right?
Ok, on a more serious note, one of the absolute pleasures of expat life is that kids from all over the world get an opportunity from such a young age to interact with other cultures.  They get many of these interactions throughout the year, particularly from their host culture (the UAE are seriously passionate about their National Day!).  But there is something really special about International Days. My daughter is at 'big school' now and they get to do a parade around the school with their compatriots as well as joining in a range of activities, food sampling, music and much more. The kids simply love dressing in their national outfits and sharing the joy (yes t-shirt and thongs counts as national dress).
So why do I always break into a cold sweat when I get the notice home that they are having an International Day?  I think its because I am really passionate about my children's heritage and where they come from.  Mine are by birth rights Australian and British (though still fighting the UK Home Office for my last child's right to a passport –that's another story!) but we are utterly bias to our own Aussie upbringing.  Despite none of our offspring being born there we hope as they grow up this is how they will identify themselves so its important that they understand the culture and traditions, in whatever way we can instill it.
Now that brings me to the next difficulty, its easy to get props, clothing and favourite foods for your home country – when you are there – but when you are living abroad it can be a real challenge.  A top tip for anyone looking at the expat life, take some patriotic gear with you! (T-shirts, flags, stickers, face paints, stuffed toys are good ideas).  Once your children are school age you will almost certainly be asked to participate in some sort of International Day so if you are travelling home, see what little goodies you can pick up for the kids to share with their classmates. .
I've put in a poor last minute performance this year and I am a little ashamed, but going forward its onward and upwards – if I truly want them to understand where they're from and what is important and enjoyed by Aussie kids (not just on Australia Day). I need to let them be part of the planning and put it in to action. Then next job, help them locate Australia on the map!
Hindsight is a wonderful thing. To help assist other parents before the last minute panic sets in I have created a Pinterest board for International Day ideas that you and your children can bring to your school.  I welcome any new contributors to this board especially from other nationalities (email me at [email protected]), or if you have any winning ideas that you have used at your child's school before – whatever your culture and background – please mention them below so we can all share and learn.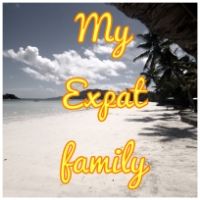 © OurGlobetrotters.Net