From the every day to the life defining, undertaking the expat life might bring about some unexpected decisions that change the way you live; not just the house you live in, the streets you walk and the culture you're immersed in but your direction forward.
Here are 5 big ways my life has changed in unexpected ways since becoming an expat.
1. I never thought I'd be a stay at home mum.  If you'd asked me 10 years ago what my ambitions were, the sky was the limit; I could make Partner in my accounting firm, I could become a CEO or run my own firm. I was incredibly ambitious and hard-working.  Sure kids would come into the picture somewhere, but the thought of not returning to a full time job never crossed my mind. Being financially and circumstantially able to stay at home has been a blessing and not a day has passed where I look back and regret stepping aside from my career.  The invaluable skills I learnt over 12 years will not fade and when the time is right, I can return.
2. I never thought I would have three children. Surrounded by bigger families in the Middle East, living in a big villa, being able to be a stay at home mum and access to quality private education have all very much changed my attitude to ideal family size. Had we remained in the UK I couldn't imagine the logistics (and financial consequences) of trying to live bringing up three whilst still bringing in an income.
3. I never thought I would be driving around this monster truck on the school run – you try finding a family car that's built to handle the Middle East conditions and can handle three car seats across the middle row and fit a double stroller (thanks to point one and two above!).  It's like whacky races out here but I have learnt to conquer those crazy roads and navigate my tank through Sheik Zayed Road at peak hour like a pro – albeit those hair raising journeys back from Dubai need washing down with an extremely large glass of savignon blanc.
4. I never thought I would have a live in helper.  It took me nearly six months immersed in my new country with two young children to change my ways. More than the thought of someone else being in my house all the time, I felt a moral dilemma. Now I simply don't know how our family would get by without the love, support and attention to detail our delightful maid brings to our home. She is a pleasure to live with and I know the income we pay her supports her wider family back in the Philippines and pays her daughters school fees. Of course she misses them dearly but she also has an established expatriate life in the UAE with her own friends and loves and cares for our children as we do. Without grandparents and your normal support group from home, this is a near second.
5. I never thought I'd become a blogger.  Documenting our life, laid bare for all to see, wow! I always thought of myself as an inconspicuous person, quietly achieving, but here I am sharing our expat journey with you all – and clocking up a fair few air miles while I'm at it! All for the sake of my readers of course. As an unexpected side effect of this I have also made some great new friendships this year in a wonderfully supportive online community.
So what unexpected changes did your expat life bring about?
For more expat related stores, don't forget to follow My Expat Family monthly link up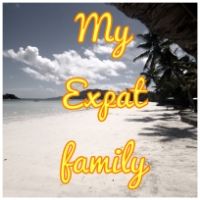 © OurGlobetrotters.Net